Showing Sonogram (from Signature Print) in this exhibition starting just when people are allowed to go to art events again in London…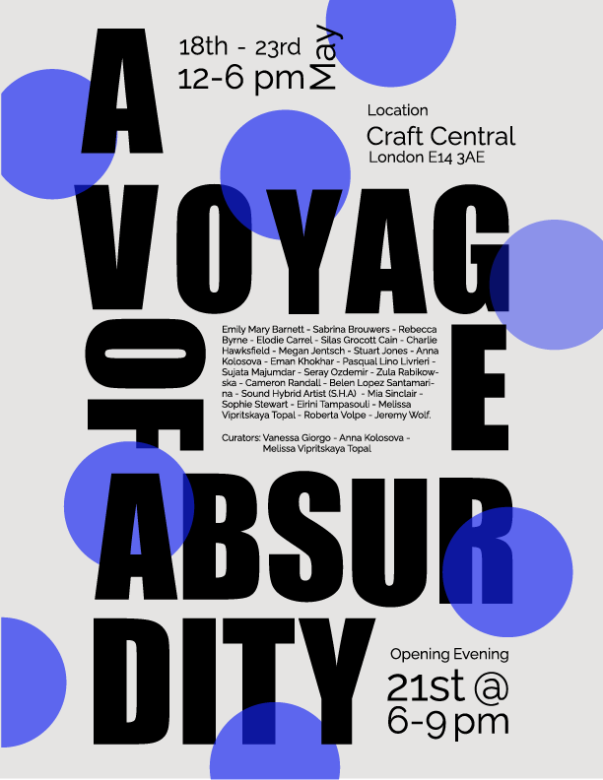 A polymorphic exhibition about people and art itself.
About this event
An exhibition about people and art itself. A polymorphic exhibition curated by Vanessa Giorgo, Anna Kolosova and Melissa Vipritskaya Topal showcasing artworks of different mediums and perspectives about how it really is to be a part of this community.
There is this idea(l) of the artist creating art for art's sake, living la vie bohème, being envied for their freedom and having the liberty to express their individuality. But is this the case?
Being a practicing artist does not necessarily mean one's life is effortless and without any obstacles. Taking the (often subconscious) decision to become an artist comes with costs. Countless external factors hinder many artists from reaching their full potential by limiting their existence. Living in a world where the humanities and, in particular, the arts, are not favoured by the wider socio-economic system as a fruitful financial ecosystem, indicates that the majority of people working in the creative industries will have to find alternative means of supporting themselves financially.
Through an open call, we invited artists who have experienced these types of dualities. Through this show, the participating artists, are exploring how various stimuli from this contradiction have fed into their work, through a variety of mediums. from painting, photography, and digital art, to moving image, textiles, and sound art. It will be a multi-sensory event, consisting of a group of twenty-five creatives who have investigated how their work has been affected by the additional efforts that they have had to make in order to make ends meet, as well as how they imagine their futures will unfold. Driven by an emotional and ethical impetus, the purpose of this project is to reflect on the truths of the people in the creative industries, showcasing the complex character of their realities through their art and to pave the way of repurposing the art world with more care and collectivity.
Dates: 18th to 23rd May 2021
Private View: 21st May 2021
Location: Craft Central, E14 3AE
Artists:
Emily Mary Barnett
Sabrina Brouwers
Rebecca Byrne
Elodie Carrel
Silas Grocott Cain
Charlie Hawksfield
Megan Jentsch
Stuart Jones
Anna Kolosova
Eman Khokhar
Pasqual "Lino" Livrieri
Sujata Majumdar
Seray Ozdemir
Zula Rabikowska
Cameron Randall
Belen Santamarina
Sound Hybrid Artist (S.H.A.)
Mia Sinclair
Sophie Stewart
Eirini Tampasouli
Melissa Vipritskaya Topal
Roberta Volpe
Jeremy Wolf
Curators: Vanessa Giorgo, Anna Kolosova, Melissa Vipritskaya Topal
For any enquiries, please contact van.giorgo@gmail.com
30% of all donations will go to the mental health charity Mind.
The space is wheelchair accessible.